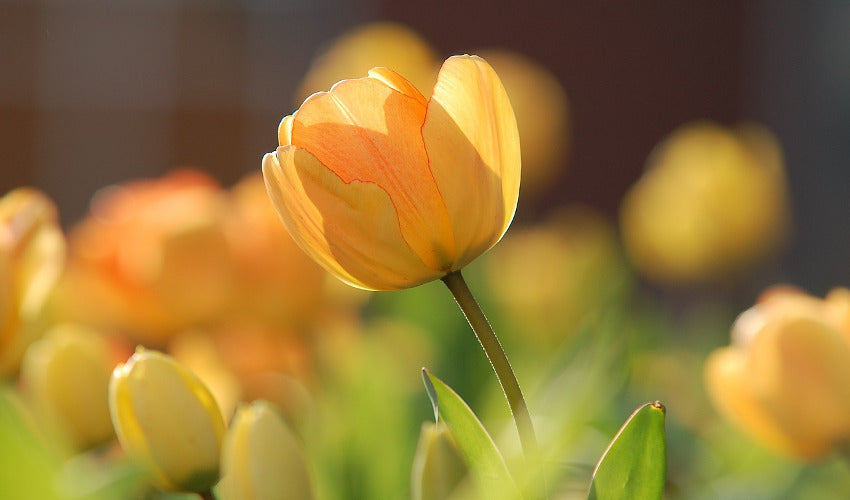 March Gardening Tips
With the official first day of spring at hand, March is an exciting month in the garden. While it is important not to rush into gardening too early and put tender seeds or seedlings at risk, it is also important not to miss these first days of warming temperatures, fertile soil and abundant rains. While the exact dates of each task will vary depending on where exactly your garden is and what its needs are, all gardeners should be considering these tasks throughout March.
Pruning Evergreens and Removing Wraps
In early March as melting begins, burlap wraps or ties that have been protecting evergreens from excess snow or ice buildup should be removed. This is also the time to prune these plants and shape them for the season, removing any portions of the plant that have been damaged during the winter.


Repotting Houseplants
If early March is still a bit too cold for outdoor work, it is the ideal time for repotting houseplants. Check plants for signs of being root bound or insect problems, and repot them as needed to help them flourish with spring growth. This is also the time of the year to gradually begin increasing watering and fertilization for houseplants.


Cleaning Up Roses
Roses will begin to bud in March, and it's time to clean up any remaining fallen leaves under rosebushes to avoid excess rot that can harbor insects or fungus that can be harmful to the roses. Refresh mulch under the roses and use a slow-release fertilizer to promote healthy spring growth if desired.


Planting Tender Bulbs
Delicate bulbs that could not be overwintered outdoors should be ready for planting in March as the soil warms up. Dahlias, cannas and gladiolas can all be planted in early spring, but take care that there is no risk of a hard, stubborn freeze that could damage the bulbs.


Planting Cool Season Vegetables
Hardy veggies can easily be planted in spring, especially if they require a longer growing season before harvesting. Vegetables such as potatoes, carrots, peas, radishes, cauliflower and lettuce are all hardy in cool spring conditions and can be planted in March. To elongate the harvest, stagger plantings so the veggies will mature at different times.


Hardening Off Tender Seedlings
Seedlings that will be planted in mid-spring will need to start the hardening off process in March so they can tolerate the stress of moving outdoors. It is best to harden seedlings off very slowly, so beginning with just an hour outdoors and increasing the time by 15-20 minutes every 3-4 days will help the young plants adapt.


Watching for Grubs
Grubs get very active in early spring and an infestation can quickly devastate winter-weakened turf. Watch closely for grub activity and take the appropriate control steps as soon as any problems are noticed. Fast action will help keep the grubs from spreading and will minimize damage to the lawn or garden.


Applying Pre-Emergent Herbicides
Early spring is the time to use pre-emergent herbicides to control crabgrass and other unwanted weeds before they start. Read the instructions carefully and choose the best herbicide products for your lawn, and avoid overuse that could damage turf that is still recovering from winter.


Starting More Seedlings
Warm season seeds that won't be planted for a few weeks should be started in March. This includes onions, peppers, eggplants, tomatoes and other vegetables. Consider trying different varieties of these plants to suit your exact climate conditions, and start them in batches to help stagger planting and harvest times.


Spreading Compost
As snow melts and the ground thaws, it is time to spread compost or other fertilizers on the lawn and gently work them in to nourish grasses, flowers and garden areas. Working compost deeply in to garden beds will help feed spring plantings and keep soil in top condition for a bountiful growing season.


Start Planting Perennials
The first perennials can be planted in March, especially in south-facing, sunny beds and gardens where soil will warm up quickly. The earlier these plants are in the ground – once it is safe for them – the better they will acclimate to their new homes and become established before the hottest part of summer.


Protecting New Plants From Frost
March weather can be unpredictable, and a sudden cold snap can damage newly planted seedlings, perennials or other plants. Keep a sharp eye on the weather forecast and temperature ranges, and be prepared to cover plants if necessary on chilly nights.
Spring is definitely in the air in March, and even if the season isn't quite ready to change yet, there are still plenty of garden tasks to attend to all month long.