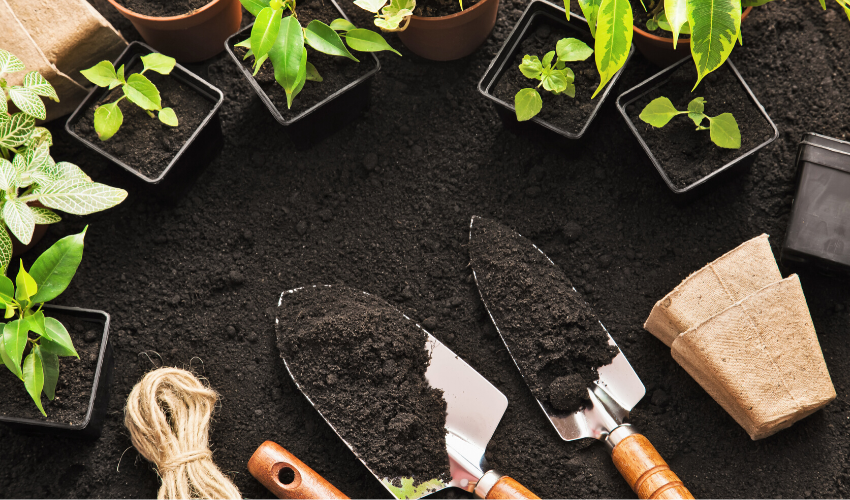 Top 10 Small Space Gardening Solutions
You may dream of bountiful harvests but feel defeated even before you sow your first seed if your garden space is smaller than you'd like. Even the tiniest garden, however, can be fabulously productive if you are creative with how you use your space. Fortunately, there are many small space gardening solutions to help you maximize even the most minimal garden.
Types of Small Garden Spaces
Many unusual spaces can easily become small garden plots. It may be a naturally small space, or the yard could be artificially made smaller by other structures, such as a large deck, shed, detached garage, pool, or patio. Even hidden structures, such as a septic tank or underground electrical lines, may limit gardening space. Deep shade could create gardening challenges and limit space, or uneven terrain could be a barrier to a sprawling garden. Non-traditional spaces can even be interesting tiny gardens. A balcony or terrace could be a gardening space, as could a side yard, alleyway, or pass-through.
No matter what type of small space you have, the right solutions can help you make the most of every inch of gardening space available.
Before You Begin
When you're planning a small garden, it's critical to test the soil so you can opt for plants and flowers that will thrive in the limited space. Similarly, evaluate the light conditions to choose plants that will grow well with whatever light is available, and take note of seasonal climate changes – temperature fluctuations, humidity, rainy seasons, drought, etc. – to select plants that will do best in your garden. Because you only have a small space, your garden will do best if you plan for success with plants that can thrive in what you have to offer.
10 Easy Solutions for Small Space Gardening
There are a many options to help you make the most of a small garden. The most popular, helpful, and practical choices for small space gardening include…
Go Vertical

– You can add a great deal of growing space to even the tiniest garden when you move to vertical plantings. You could opt for trellises, wires, or any structure that can support climbing plants such as ivies, floral vines, or fruits and vegetables like melons, peas, tomatoes, peppers, and beans. Tiers of pots in the corner or hanging baskets are other ways to add more vertical growing space to your garden.

Invent Space

– Getting creative with your gardening arrangement can help you add more growing space. Set a pallet on edge and attach pots for an instant vertical arrangement, or hang small pots of herbs, flowers, onions, and more between railing posts. Pots can be placed on steps to create an instantly tiered garden, or you can use window boxes to create growing space where there was none before.

Edge With Containers

– If you need an edging border to your small garden, make that edge a part of growing space with containers. Small pots can be placed tightly together and planted with herbs and flowers, or cinderblocks can be used to create a raised bed that includes space along the edge for even more plants.

Be Both Practical and Ornamental

– Instead of filling flowerbeds with nothing but blooms and ornamental plants in your already limited growing space, use that space for attractive edibles. Many leafy greens such as kale, swiss chard, and different types of lettuce have stunning foliage that will be right at home in ornamental beds. Rhubarb and herbs are other great options to maximize the practicality of your growing space.

Choose Compact Cultivars

– Many plants have been adapted to grow well in small spaces yet still have productive yields, prodigious blooms, and beautiful forms. Look for cultivars labeled as compact, miniature, dwarf, semi-dwarf, or containerized to find options that will work best in limited space.

Plan for Succession

– Succession planting can maximize a garden's productivity even in a small space. This involves combining plants with different growth rates, bloom times, and maturity dates to ensure that something is always producing, and as soon as one plant is finished, another begins its most productive period. This can ensure your garden, no matter how small, is always productive and useful.

Move Inside

– You don't have to keep your entire garden outdoors. Many beautiful plants and delicious fruits, vegetables, and herbs can grow very happily indoors, allowing you to take advantage of extra space on a broad windowsill or in a bright room. From fragrant rosemary to hearty garlic to different microgreens, tomatoes, and even lemon and orange trees, you can grow a fantastic garden indoors.

Brighten It Up

– Many plants have more luxuriant growth with better sunlight, and the brighter your garden space, the more productive it will be. This can be a challenge in small spaces, but if you paint adjacent walls, fences, or even furniture white or pale shades of blue, green, or pink, you will visually brighten the space and make it seem larger, while simultaneously reflecting more sunlight onto your plants for better growth.

Minimize Accessories

– Every accessory you add to your garden space will take away growing room, so be mindful of the accessories you choose. Instead of a large, heavy furniture set, opt for a lighter bistro set. Instead of a hefty built-in grill, consider a portable grill that can be moved away when not in use.

Store Creatively

– Not only do you have to maximize growing space in a small garden, but it's important to maximize storage space as well. Consider a "tool bouquet" in a bucket or pot to hold hand tools, or store tools hanging on a fence or wall. An old mailbox can be repurposed to hold garden gloves, small tools, and other gear right in your favorite flowerbed, or you can opt for storage benches or plant stands with multiple shelves to do double duty.
The more space-saving solutions you use in your small garden, the more space you will discover and the more you will be able to plant and enjoy every inch.